Kurnool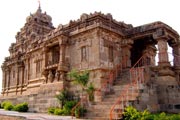 Kurnool city is the headquarters of Kurnool district and recognized as the Gateway to Rayalaseema.It was the capital of the undivided state of Andhra Pradesh from 1953 to 1956.
To explore the Rayalaseema district is to be awed by the history of the splendid Vijayanagara Empire – renowned in both ancient Rome and Greece for its vast extent and fabled wealth. And even more so for its administration and unique culture of the equality of all persons under its rule, despising the practice of slavery and bonded servitude of one man to another.
In more modern times, the district was ceded in AD 1802, to the British by a descendent of the Asif Jah, the last Turkic dynasty – the Nizam of Hyderabad, in gratitude for their help during a series of wars and skirmishes.
Ketavaram in Kurnool district, has been made famous by the discovery of fabulous Palaeolithic rock paintings and is a short run from Kurnool city. The district has other significant spaces where similar rock paintings, estimated to be around 35,000 to 40,000 years, draw a steady stream of visitors and archeologists – such as Yaganti, Katavani Kunta and the Jurreru Valley. The Belum Caves were probably occupied by Buddhist and Jain monks, going by the extensive Buddhist relics unearthed during archaeological excavations. These are currently housed in a museum in Ananthapur.